In February of 2002, Jen and I were fortunate enough to be able to attend a few events during the Olympic Winter Games in Salt Lake City.

We watched the Men's Super G where all three qualifying Canadian men did not even finish the difficult course.

This was followed by watching Team Canada Women defeat Sweden in hockey, a sweet 11-0 victory after the men's team were defeated by Sweden the previous day.

We then watched Team Canada Men beat Germany in a shaky 3-2 victory, yet thrilling nonetheless, just to be so close to Canada's greatest hockey players.

Finally, we were lucky enough to see two Canadian women take home Silver and Bronze in the thrilling Women's Aerials Final.

Check out some of our Olympic pictures here (in random order).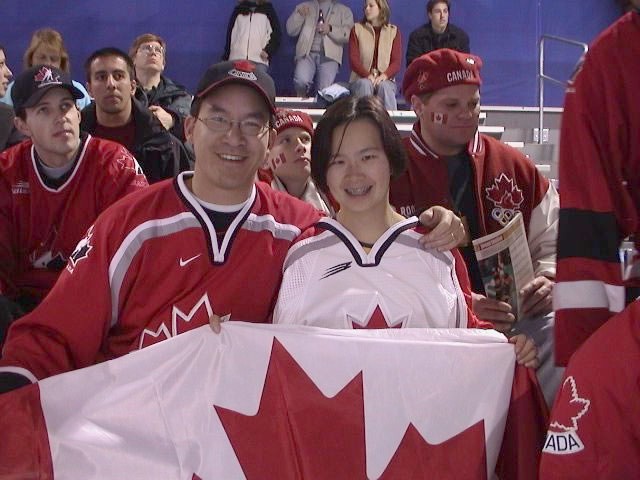 At the Canada-Germany hockey game.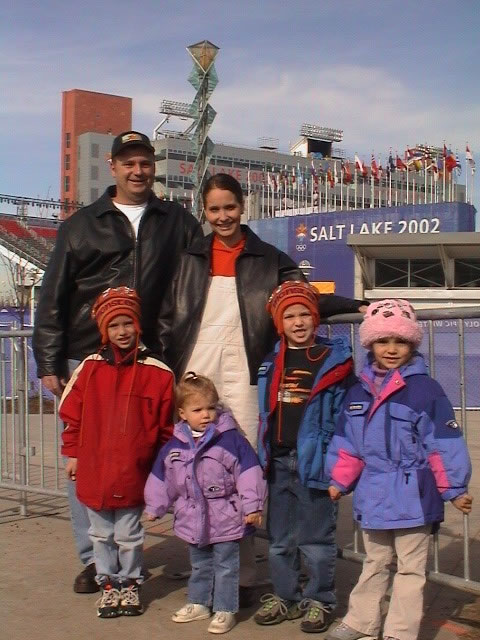 Many thanks to Dave and Nicole Barnes for their generous hospitality in Salt Lake City. We wouldn't have had this great experience if it weren't for you! Hi to Drew, Zach, Sarah, and Anna Nicole.
After returning home to Seattle, we waited nervously for February 24 to come by, a date we had been anticipating for several months. We watched as Team Canada narrowly defeated Finland in the quarter-final. The upset of the decade came when Belarus knocked out Sweden, to then be dispatched by Team Canada in the semi-final. The Gold Medal round was coming up, with Team Canada facing Team USA in what was going to be the biggest hockey game of our generation.

Of course if you're reading this, you know exactly what the result was. But there is no denying that the moment was pure ecstacy... the anticipation was unbearable, and the result was simply incredible.

We had our friends from work, and our hockey teams Canadian Bacon and Canadian Lite join us to watch the Gold Medal Game.

To see the Gold Medal game drama unfold, click here.